Entering last night, the Celtics were coming off of their most disappointing loss of the season Monday in Brooklyn. They were also coming off of a week that was more focused on off the court nonsense rather than what was actually happening on the hardwood. There's been so much talk about what is wrong with this team: "Are they too talented", "Is Kyrie polluting the locker room", "Should Danny make a move?", "Is this team just not that good", and every other take in the book. Wednesday night the Celtics put all of that aside and finally just came out and played Celtic basketball. They took every punch the Raptors threw at them and threw even more punches of their own. During a stretch where they've looked more like a JV team than a title contender, last night they showed why they should be taken seriously and how dangerous they can be when they're clicking.
They started out slow as they had a few careless turnovers (5 in the first quarter), were down 18-7 five minutes in, and allowed 36 points in the first quarter. They flipped the switch in the second as they went on a 30-12 run and had it going on the defensive end as they outscored the Raptors 34-17 in the frame. From there they were hit by some third quarter troubles as they let the Raptors erase a 16 point third quarter Celtic lead en route to what made for a dramatic fourth quarter.
I was in the arena last night and this game had a playoff type feel from start to finish. Fans were there early, they were rowdy, and they wanted a win. It's not often you go into a Wednesday night game in January and have that type of aura, but last night had it. The fourth quarter was a trip as you could feel the Garden living and dying on every single possession. Kawhi Leonard was on a mission as he had 12 of his 33 points in the fourth quarter and gave the Celtics all they could handle. Look at these shots he's making, there's no airspace whatsoever and he'd still bury them.
All of the doubt, nerves, and frustration around this team all culminated into one signature moment late. After putting the Celtics up 108-106 with a fadeaway over Serge Ibaka from the right elbow, Kyrie Irving saved his best for last and dropped a 31 foot bomb from Halftime Pizza in Kawhi Leonards face, and then went into a tizzy shortly after.
Now that right there, that is what we call in the business a BAD DUDE. It was up there with his dagger against the Sixers on Christmas as his most signature moment in green. I would love to put this video on the jumbo-tron at Barclays Center in Brooklyn for all of those Net's fans chanting "Kyrie's Leaving" on Monday night. He ain't goin' NOWHERE, and you can take THAT for data!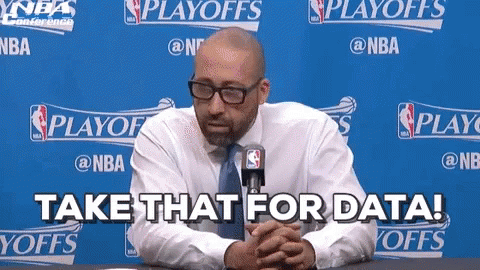 While that was his most notable moment of the game, Kyrie was phenomenal from beginning to end posting 27 points, 5 rebounds, and 18 assists (career high) on 11-19 shooting from the field and 3-6 from downtown.
He not only did it on offense, but we saw him dive on the floor multiple times and hold Kyle Lowry to just 3 points in 30 possessions covering him. That kind of heart and that kind of effort on the defensive end is what sticks out to me way more than the offensive output. After giving his teammates an earful over the weekend, he not only talked the talk, but he walked the walk. His words have no meaning and no weight if he doesn't back it up on the court and he did just that. He was all smiles after the game and he's growing into a great leader right before our eyes.
Just show me a brick wall I can run through, say when I should run through it, and I'll happily oblige. Another thing happened postgame as Kyrie informed the media that after his outburst on Saturday night after the Orlando game, he gave old friend LeBron James a call to apologize for how he acted in his younger years.
It's noted that Kyrie wanted to get out of LeBron's shadow and do his own thing, but he's finally realized that being LeBron was not the easiest thing during his Cleveland years. He admitted to being a bit selfish while all LeBron wanted to do was to teach him how to win. It's honestly so cool that Kyrie called LeBron. It's like when you're a kid and think your parents are just badgering you for no reason and then finally you get into the real world and realize everything they said was right. It shows his maturity level and how dedicated he is to becoming the best leader he can be for this team and I couldn't be happier. Eric also wrote about this in a blog this morning detailing why this is such a good thing for Kyrie and the Celtics.
While that was a lot of Kyrie talk, the rest of the Celtics showed up as well and all had key contributions in this one. Gordon Hayward came to play as he started off 7-8 from the floor in the first half and finished with 18 points and 5 assists. His jump shot was falling and even showed us something we haven't seen from him yet with this pretty step back three.
I don't know if this sort of urgency was due to the possibility of his wife going into labor during the game or what, but whatever it is, I was a fan. He held opposing players to 3-9 shooting and was a big part of how the Celtics built their lead in the first half.
Al Horford had his best offensive game of the season as he scored 24 points on 9-12 shooting along with some big shots down the stretch. He also chipped in 7 rebounds and was solid on the defensive end.
Since coming back from his knee injury he's looked kind of slow and tonight was a step in the right direction for him as he's trying to return to form. He's a safety blanket for this team and he was there time and time again last night and took advantage of his opportunities. Ditto goes for Jayson Tatum as he struggled (6-16 from the floor) but came to play in the fourth and made up for his prior three quarters with plays like this down the stretch.
His performance in the fourth quarter means more to me than how he performed before then because it shows his growth as a player. Even though he didn't have it last night, he wasn't afraid of the big moments, and made plays when it mattered most. The ability to have the same feel for the game wether you're shooting well or not is such a valuable trait to have as a young player and it'll pay dividends for this team in the long run.
Lastly, the Celtics welcomed Aron Baynes back into the lineup and in only 18 minutes of play, he was solid posting 9 points and 5 boards on 4-5 shooting. He also hit a three in the fourth quarter to swing momentum back to the Celtics after the Raptors went on a 9-0 run and took the lead at 92-89.
His presence is an X-Factor for this team as he just brings everything together on that second unit. Night in and night out you know he's going to give you great defense (mainly positionally but he also has the ability on that end), plenty of screen assists, and that shooting touch.
A big win for the Celtics as they now go to 2-1 versus the Raptors this season and are 6-3 against the top 4 teams in the East. While this one was nice, it's about coming out on Friday versus Memphis with that same energy and that same fire they had last night. That game is set to tip at 7:30 right back at TD Garden.
-Chuck
Follow us on Twitter @ViewsFromWall for real-times post updates and other news!